Charity Ride Report by Charlie Ratcliffe
Back in December I decided that wanted a challenge and I wanted to "give something back" so to say. As the main point was to raise money, I had to think of a challenge that would be substantial enough to get people donating- and so the idea of doing Holyhead to Cardiff in one day was born. The loss of Eric Hodge, and permission from Sylvia to dedicate the ride to the memory of Eric, shone a more personal light on the whole idea. As Eric was cared for in Holme Towers it seemed only right to raise funds for Marie Curie who do a fantastic job of caring for people at the end of their life. So I set about getting people on board… and soon I had 15 other nutters wanting to do the ride.
Before we knew it, we were in June and the ride was only weeks away! We organised a curry night on the 6th June which raised over £500 and was well attended by Ajax members, old and new.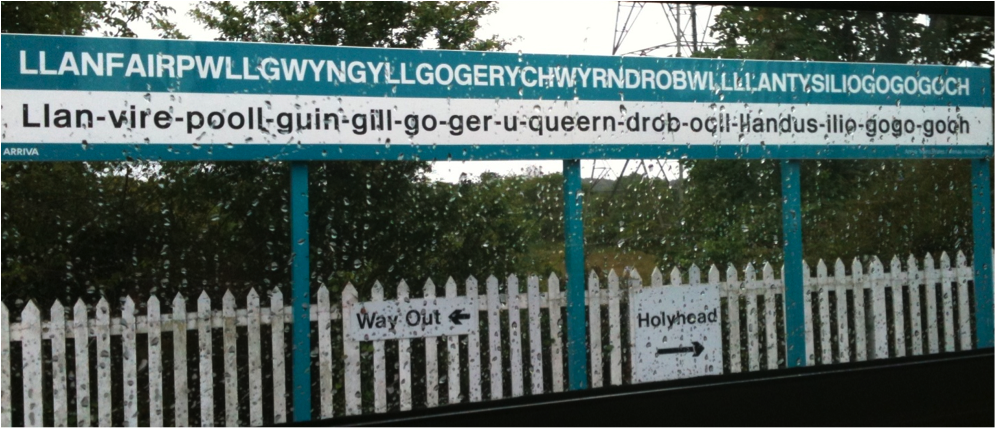 On Friday 17th June, we boarded the train at Cardiff Central and headed off to Holyhead. Spirits were high and many jokes were told (some better than others…). As we got further North the weather got worse and the rain made "way out" seem like a better option. However we persevered and avoided the urge to run off the train screaming and shouting.
After what seemed like a millennia we arrived in Holyhead and quickly found the closest pub to take the edge off things. We met up with the rest of the crew in our bunkhouse and consumed enough Bolognese to feed 100 people (this was Chico's Bolognese which, if you haven't tasted it, is a taste sensation). We had a quick team meeting and then headed off to our bunks to get a few hours sleep before our early start.
At 4am alarms were blazing and we were up. I looked out of the window and there were clear skies, then I turned around and saw a bare bottom which quickly ruined my good mood! We all got into our lycra, scoffed some porridge and had some photos to prove we were there, and then we were off. We left the hostel at 5.15am, took the wrong turn and had a funny five minutes where we seemed to go round in circles. Then we had a mechanical and I had visions of us never getting home. Eventually we found the right road and were properly on our way, yay!
We got to the first un-pronounceable town and the sprint competition started – Tony taking an early lead with a stylish sprint to the sign. The pace was good and before we knew it we were at the Menai Bridge! We stopped to have some photos and they boys had a wee, and then we set off again. Looked like there were black clouds in the distance but we managed to avoid them by keeping up a storming pace all the way to Dolgellau (75 miles), where our fabulous support team had bacon baps waiting for us. After a quick re-fuel we headed off again, straight up a climb. We all stuck together and kept a steady pace to the top. Time was flying by! There was a lot of chatting so I'm guessing everyone was having fun – I had Marc teaching me French (embouteillage!) to keep me entertained.
I was really impressed at the way the group was riding – no one seemed to be suffering and we were getting through the miles much faster than I was expecting. Before we knew it we had hit the half way mark (105 miles). Again, our support team were there with sandwiches, cakes, drinks and smiles waiting for us. Off we set again! The sprint competition was still going strong with Marc, Tony and Jack being the main contenders.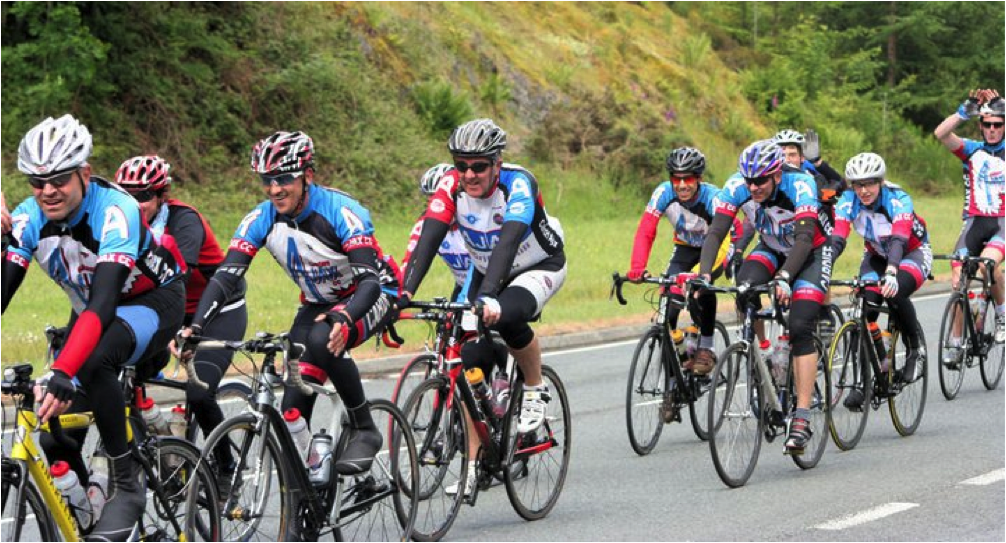 I was getting nervous at this point, thinking it was all going too well. Then someone said that we'd hit 135 miles, 5 more miles than I'd ever done before and I got even more worried! We cracked on past more lovely views, getting some good encouragement from our supporters every couple of miles. We arrived at Builth Wells (150 miles in) at about 2.30pm where Reg and Mo had set up a gazebo with tables of food and hot drinks for us. We all scoffed as much as we could and then grabbed our raincoats from the van – the big black cloud finally caught us! We cowered under the gazebo for five minutes before plucking up the courage to get back on our bikes and face the rain. The shower was only short but enough to get us drenched – but we didn't let this get us down and we carried on, still keeping up a good speed despite having a head wind for a while. The shower passed and the rain held off – we even had some sunshine over the next 20 or so miles. Then we had our first (and last) puncture of the day, which was changed pretty quickly and we set off again – into Brecon where the big black cloud was waiting for us again.
Two of our most sensible riders, George and Bernard, did a brilliant job of leading us up Storey Arms – again, we all stuck together. There was some pretty sketchy driving by some of the passing vehicles but we were safe in the knowledge that Big Phil was keeping an eye on us in the van. We arrived at the top in one piece and had a quick refuel. Here we were joined by several fresh looking Ajax members. We all whizzed off into another shower of rain, knowing we didn't have far to go. Before we knew it we were in Merthyr (where we had fun pot-hole dodging), then Pontypridd, then Taff's Well, then Tongwynlais… and after over 14 hours of riding we were in Cardiff!!
We battled our way through traffic lights to Cardiff Bay where we were greeted by our screaming fans and, more importantly, champagne. I can honestly say that I enjoyed every minute of the ride – all 14 and a half hours of it!
For those that are into statistics: 210 miles, 9,000ft of climbing, an average moving speed of 16.8mph.
We have raised over £3,650 with more money still coming in.
Green Jersey winner = Tony Carroll.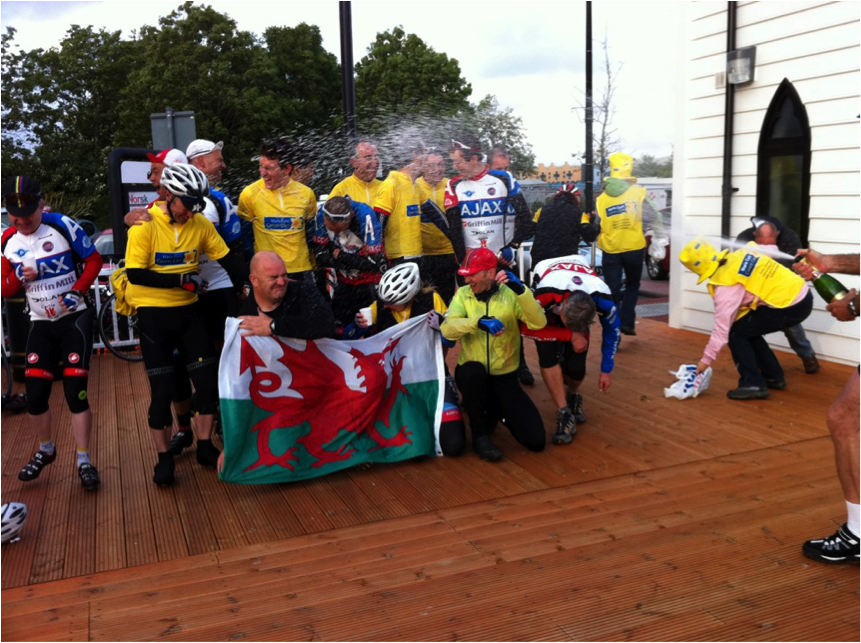 I would like to say a massive thank you to everyone involved – I have been amazed from the very beginning at the amount of support, encouragement and advice I have had from so many people.
Firstly a huge thank you to all the riders – Jack Gibson, Mike Gibson, Marc Tilley, Tony Carroll, David Medhurst, Bernard Brown, Georgina Harper, Darren Gill, Adrian John, Ian Homer, Mick Tinning, Matt Wheeler, Rhys Williams, Pat Jennings and Julian Attfield – such a great bunch of people who kept me entertained all day, couldn't have done it without you! Also our supporters/drivers – Ceri Price, June Price, Phil Clarke and Catherine Ruddick; and Reg and Mo Pharoah for their feed station – you all did a fantastic job of keeping us fed/watered and entertained. Phil did a grand job of being our safety back up and handing out bottles etc to us on the move.
Secondly, thank you to Sylvia Hodge and the rest of the Hodge family for being so supportive of the ride – it was really great to see you at the finish; and Roger Pratt and Reg Pharoah for telling me about so many of Eric's achievements and supporting my idea from the start.
A special little thank you to Jack for helping me out with so much of the preparation for the ride – I'll buy you dinner when I'm rich.
Thank you to our sponsor Griffin Mill for lending us their van, without which we wouldn't have got 16 bikes to Holyhead, and also Arriva Trains Wales who provided each rider with a free train ticket to Holyhead.
Thank you Rob Berry who donated enough mince, ham and bacon to feed an army – best butcher in Britain! And Chico/Julian – thank you for cooking it up to make us such a good pre-ride meal/"last supper". Thank you to Sarah Hunt and Mum for organising the finish – and thank you to all those who came down to support us. Thanks to everyone who donated raffle prizes and/or attended the curry night. Thank you Castle Bikes for the tub of energy gels. Thank you Ian for the photos, and Mick for sorting out the press side of things. Thanks to all my friends and family who always support my crazy ideas.
Last but not least, a great big huge thank you to everyone who sponsored us – without you the whole effort would have been pointless.
From
Charlie Ratcliffe
(Proud owner of legs that cycled 210 miles in one day.)