Celtic Series Final Results
Good morning all.
This is just a quick post to update everyone on the final standings in this years Celtic TT Series.
Final Team Standings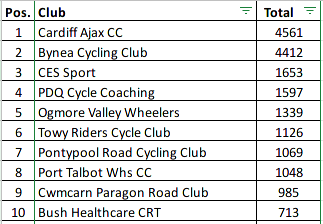 Individual Standings

Leon Evans wins the Male Veteran 40-49 yr old category in only his 3rd season of racing, making a step by step improvement up the podium from 3rd in 2017 and 2nd in 2018.
In that time his 10 mile PB has improved from:
2017 – 22:17
2018 – 21:48
2019 – 21:18

Thomas Dye, Rob Jones and David Medhurst also saw 10 mile times crumble with new PB's this year:
Tom – 21:16 (13 Jul 2019)
Rob – 21:18 (07 Sep 2019)
David – 20:28 (17 Aug 2019)
Cardiff Ajax Points Contributions

It cannot be overstated enough that if your name is on this list, then you DIRECTLY contributed to Ajax winning the Dragon Trophy this year.

Every point in the above table was critical and vital and I cannot thank you all enough for your contributions. (especially to everyone who turned out in poor weather for the final round in Raglan!)

Time Trialling may be an individual pursuit of one person suffering alone against the clock, but where trophies are concerned, team work and club participation is the key component to making this club a success in the time trialling scene in South Wales.
Thank you all once again for contributing to the clubs success and hopefully we will see similar results again next year in an effort to retain the trophy rather than handing it back to Bynea again!!